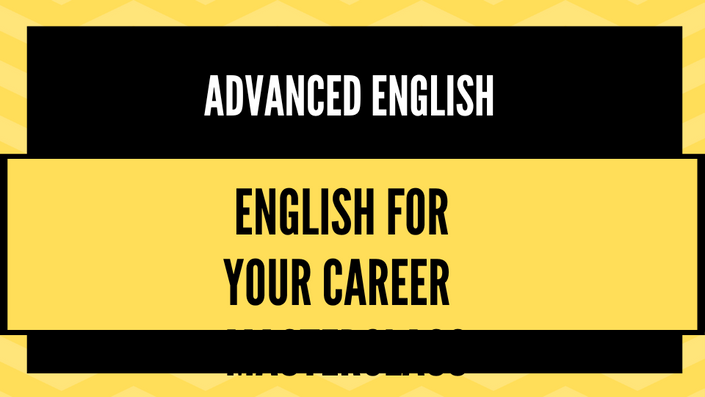 English For Your Career
Write the perfect CV, LinkedIn profile & Professional bio for your career
Enroll in Course
A good CV is essential when you apply for jobs.
It's your chance to tell YOUR career story. You can choose what to include and how to write it so that you show your greatest strengths and achievements.
But it's more than that as well.
A good CV gives you confidence in your job search. It shows you how you've progressed in your career, and why you're ready for the next step.
It will make you feel proud of what you've done, so that you can feel more confident in job interviews.
But, how do you write a great CV? Where do you start? Most people hate writing CVs, but in this training program I'll show you exactly what you need to do.
Introducing ...
Write an English CV - without the stress
Writing a CV is easier than you think!

CVs are flexible, but there are some 'rules'. In this step-by-step training, I show you:
- the different types and formats of CV
>> How to decide which type suits you best
- the different sections in a CV
>> What information you should include in each
- the language of a CV
>> What words to use and what words to avoid
The result?
You'll feel confident that your CV has all the right information to impress the employer.

The training course gives you everything you need to write your CV.
But if you're not sure about how to organise the information on your CV, copy the sample CVs and templates!
You can be 100% sure that your CV will be accepted by all employers, recruiters and online job boards.
Copy the template styles
Copy the language (use the 165 'achievement verbs' to write a strong CV)
Copy the ideas for a perfect CV!
Use the '5 Rules' for a perfect CV
You can be confident that your CV will impress employers when you follow these 5 simple rules:



Find out what information you should NEVER include on your CV. This information might be different from how you write a CV in your country!

Answer the 3 questions that an employer will 'ask'. When you answer these questions, an employer will feel more sure that you're right for the job.

Learn how to write 'achievement stories'. These career stories are the #1 way to impress an employer, and I'll show you how to write them!

Choose the best layout for your situation. There are many different layouts and formats, and I show you how to use the best one for you.

Avoid the most common mistakes that most people make.
Easy step-by-step approach you can follow
Get clear explanations and examples on how to write your CV.
Video and slides (all downloadable) to write each section.
Full vocabulary and grammar notes.
Checklist to help you write each section perfectly!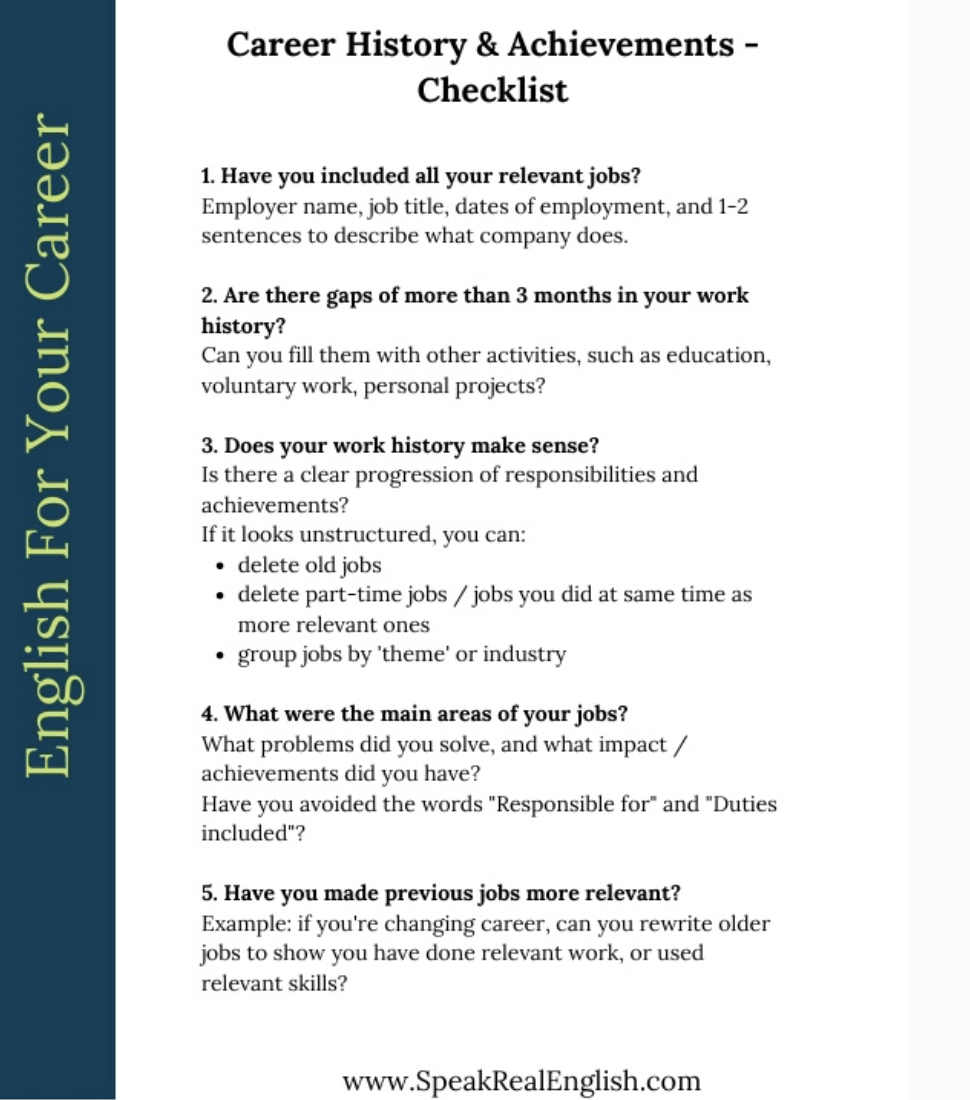 Also get my training to help you write your LinkedIn profile, and a Professional Bio. Along with a CV, these career documents will help you
apply successfully for the job you want
show your skills and career achievements
introduce yourself to the right people
Complete training for your dream job!
This course has everything you need to get your dream job.
It's for you if you need to write your CV in English - but you aren't sure about how to start or what to write!
Here's exactly what you get inside the course:
1. The Complete Curriculum (worth $148)
Full training to write each section of your CV, plus LinkedIn profile and Professional bio.
Vocabulary and grammar notes to write confidently and professionally.
Downloadable videos and slides for offline & online support.
Checklists for each section.
2. Bonuses (worth $49)
165 Achievement Verbs to help you write confidently and professionally.
Sample CVs and CV templates to help you choose the best layout for you.


Get all this at a special introductory price!
The total value of "English For Your Career' is $197. But your investment is much less.
'English For Your Career' is just $69. (+ sales tax / VAT)
And, for a limited time early, get your CV checked by me!
Choose the VIP option to send me your CV. I'll edit and improve it for you. This is the best option if you're applying for a new job NOW!

A great CV is just one step away!
In the next 60 seconds, get immediate access to the course: the videos, slides, language notes, checklists, templates and achievement verbs.
In the next few days, follow the training to write your CV, LInkedIn profile (and Professional bio if you need one.)

After 30 days send me your CV for my editing and suggestions. (If you've chosen this option at checkout.)
You can be 100% confident that your CV is optimised for the next step in your career!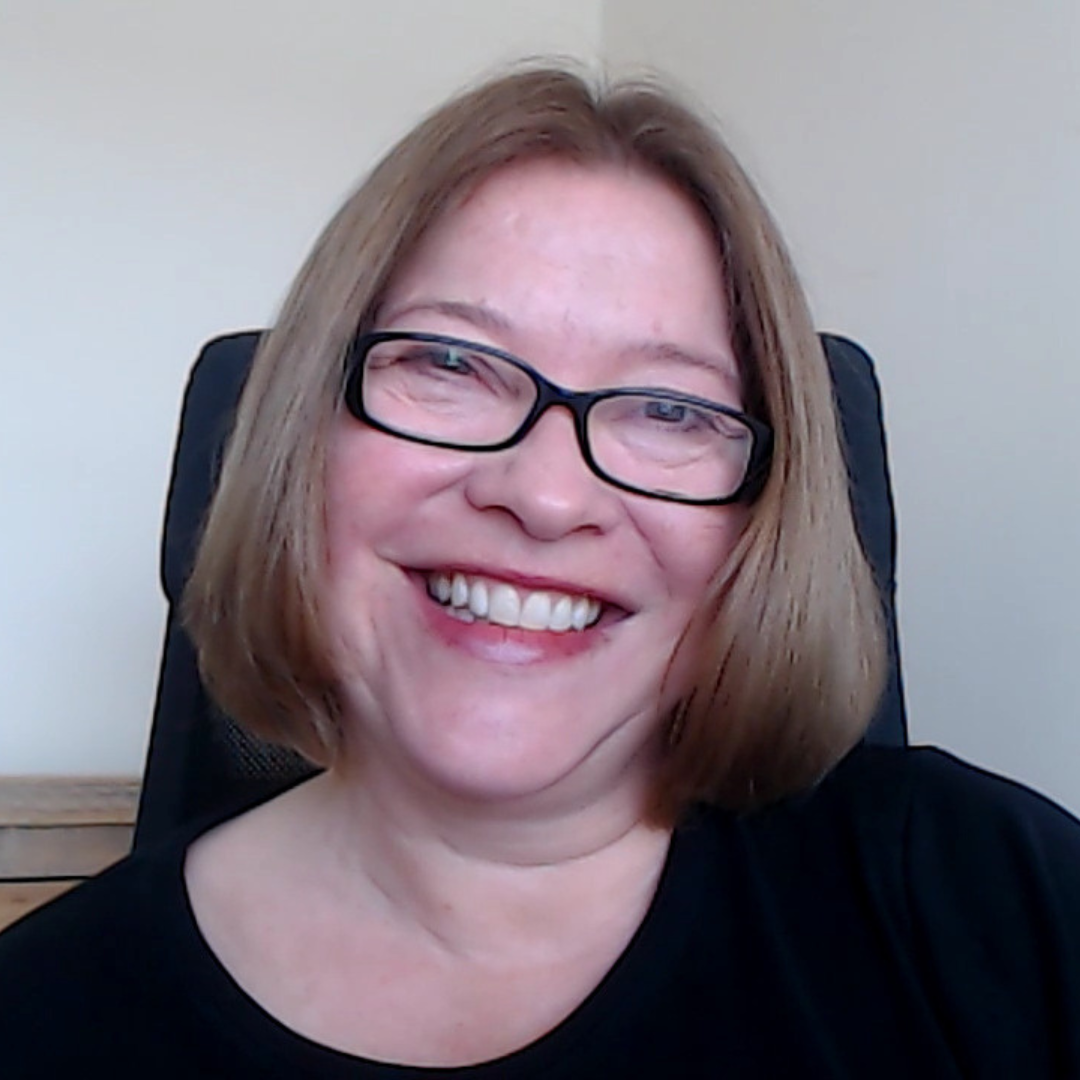 I'm an English teacher from Oxford (in the UK) and I've lived in many different countries.
When I was living in Italy, I started writing books to help my students. I had a bad internet connection at the time, so I couldn't give online lessons.
One book I wrote was to help people with their CVs. Then I started giving advice about CVs in career forums. This led to an invitation from the Guardian newspaper to write a regular blog.
I wrote more than 130 articles on CVs and interviews, and took part in more than 50 panel discussions, helping hundreds of people to write their CVs and get better jobs.
I want you to have a great career - and the first step is to write a great CV. Let me show you how, so that you feel proud of your achievements and confident in your job search.
Course Curriculum
Section 1: Types Of CVs
Available in days
days after you enroll
Section 2: The Essentials of Writing A CV In English
Available in days
days after you enroll
Section 3: The Language of CVs
Available in days
days after you enroll
Frequently Asked Questions
When does the course start and finish?
The course starts now. You have lifetime access to it and can come back to it whenever you need.
What if I am unhappy with the course?
If you decide that the course is not for you, let me know within 30 days and I will refund you.
What level of English do I need to have?
You will need some writing skills to follow this course, so you should be a B1 level and above. The vocabulary used in CV writing is quite formal, but you can write a good, simple CV even at B1 level.