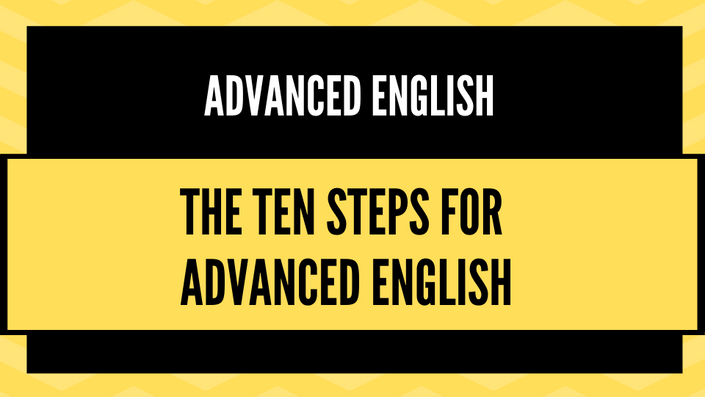 The 10 Steps For Advanced English
Get Clear Rules For Accurate English
When you can use English like your first language...
- you aren't worried about making "basic" mistakes
- conversations feel easy and natural
- you don't have to simplify or summarise your ideas. Your English is effortlessly elegant.

But getting to this stage is a long and frustrating journey.
Sometimes it's because you make the same mistakes again and again.
Sometimes it's because you're confused by English grammar. (There are so many exceptions to rules!)
And sometimes it's because nobody corrects your mistakes - so you don't know what to improve!

Truth #1. Advanced English Gives You Authority, Respect & Trust
When you speak at an advanced English level, you get instant authority, respect and trust from the people you talk to. It means that:
- people enjoy talking to you in English
- international colleagues and clients see you as an equal partner, and
- English is the key to your professional success (& not something that fills you with fear)
Truth #2. Nobody tells you when you make a mistake.
Most people are too "polite" to tell you when your English isn't 100%. (They'll correct your vocabulary or even your pronunciation, but not your grammar.)
Sometimes they don't want to offfend you. Sometimes it's because they aren't sure of the grammar themselves.
The result? You don't know when you're making a mistake - which is frustrating for you, because how else can you improve?
Truth #3: Studying English grammar is complicated - and boring!
There are lots of rules, and endless exceptions to those rules. And grammar textbooks rarely do a good job of explaining concisely.
(Even I hate reading English grammar books - and I'm a teacher!)

So, how do you get to an advanced English level
- without spending years studying
- without asking all your friends or colleagues to correct your English
- and without falling asleep each time you do another grammar exercise?


INTRODUCING...
The 10 Steps For Advanced English
Go from Intermediate To Advanced by following easy-to-remember guidelines
Your path to Advanced English starts with training in ten key areas of English. But instead of trying to memorise long lists of rules and their exceptions, get easy-to-remember tips and guidelines.
- the "patterns" in English that reduce your learning time (learn one pattern, not 100 individual rules)
- "tips" and short-cuts so that you feel confident about your English
- ways to expand your sentences, simplify complex structures AND avoid repetition - all so you can speak accurately, confidently, and elegantly.
Then...
You need to practise in order to remember. This is why you have a short quiz after each video.
But that's not all.
You also have access to me, the "Grammar Tutor", I'll answer all your English questions.
Let me explain...
Supposing you don't understand the video training. Or why a particular answer is correct. Instead of feeling stuck or frustrated, just ask your question and I'll answer.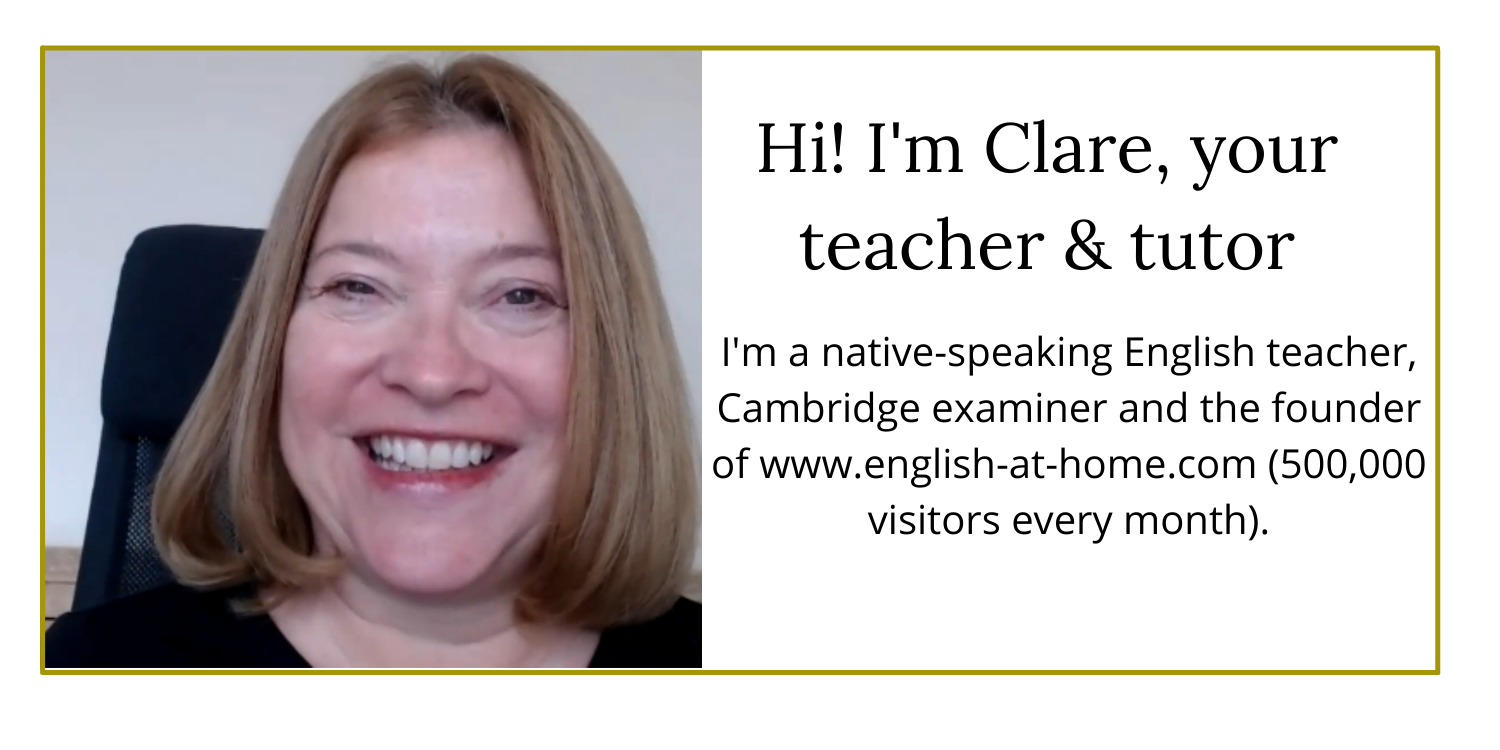 A grammar tutor is the next best thing to having a teacher by your side!

Cheaper than Duolingo. Quicker than asking Quora. And tailored just for you.
10 Steps For Advanced English - In Full
This training gives you a complete roadmap for advanced English. There are three different parts to it:


1. 10 Steps with 37 videos & 32 quizzes (worth $100)
The 10 Steps explain the most important areas of advanced English so that you can avoid common mistakes, expand your sentences - and get the authority and respect you deserve when you speak English.
Here are three examples of these ten steps: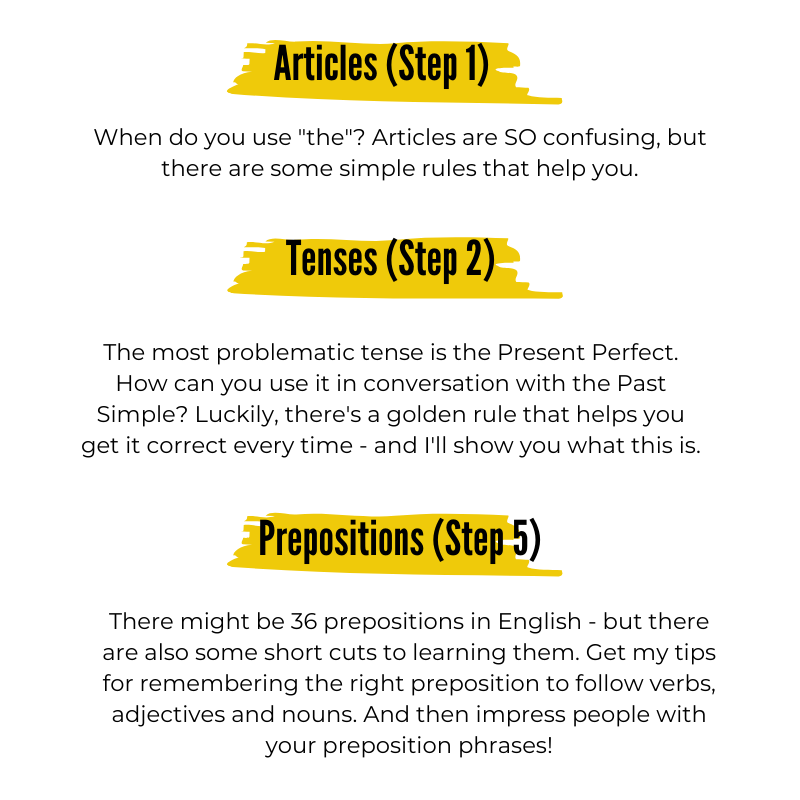 We also cover modals, conditionals, verb patterns, relative clauses, passives, sentence structure and ellipsis (= how to avoid repetition) in this training. A few examples:
- Are you unsure about when to use an infinitive or a gerund? (Head to the Verb Patterns section.)
- Do you need to expand your sentences to speak with greater 'flow'? (Go to Sentence Structure.)
- Do you want to sound more natural - and even casual - in a conversation? (Check out the Ellipsis section.)


2. Grammar Tutor - get your questions answered (worth $300)

Unlimited access to my brain! This is the part of the training where you can have direct access to me. If you're unsure about anything in the video or quiz, write your question and get a clear answer.
- No more searching the internet and getting 10 different opinions.

- Answers completely focussed on your question.
3. VIP invitation to the Advanced English Party in January 2022 (worth $49)
Another chance to get answers to all your English grammar questions. This is a workshop format (recorded) where you can ask me anything.
*** SPECIAL INTRODUCTORY PRICE ***
The total value of '10 Steps For Advanced English' is $449. But your investment is much less!
Get the '10 Steps For Advanced English' for the special price of $79 (+ sales tax / VAT)
(That's about the cost of two grammar textbooks - which you'll never read!)
This is how you get to advanced level:
In the next 60 seconds, get immediate access to the training. All the videos, quizzes and Grammar Tutor.


In the next 30 days
, work through the 10 steps. Watch the video, do the quiz, and ask a question if you aren't sure. You'll get my clear explanations - and you can ask as many questions as you need!


In the next 60 days
, get your special invitation to the Advanced English party. This is your chance to speak to me in person!
Course Curriculum
Welcome to The 10 Steps For Advanced English
Available in days
days after you enroll
Nouns & Articles
Available in days
days after you enroll
This is SUCH a good question!
Here's how the training can help you go from frustrated to confident - in 10 steps! It's ideal for you, if:
you want to get to advanced level in English, but you don't have the time (or desire) to read English grammar books
you aren't even sure what grammar to focus on for advanced English level.
you're happy to study (watch videos / do quizzes) but you also want to ask questions
you don't want to learn hundreds of rules and exceptions - but you DO want easy-to-remember guidelines for accurate English
You have 3 ways to get to advanced level with this training:
- the 37 videos and 32 quizzes which explain - in clear English - the most important rules and guidelines for advanced English. You'll know the common errors to avoid and get ways to simplify complex English (great when you're in a conversation) and expand your sentences for more elegant English.
- 'Grammar Tutor'. Exclusive and unlimited access to me whenever you have a question.
- VIP Invitation to the Advanced English Party. Your chance to ask me anything about English!
At the end of this training, you'll be
confident about the most important areas of English, AND
accurate, as you'll know which errors to avoid
All in less time than it takes to read an English grammar textbook!
My TWO guarantees to you.
I want you to be 100% happy with your investment, AND I want you to get to advanced level. I have two guarantees: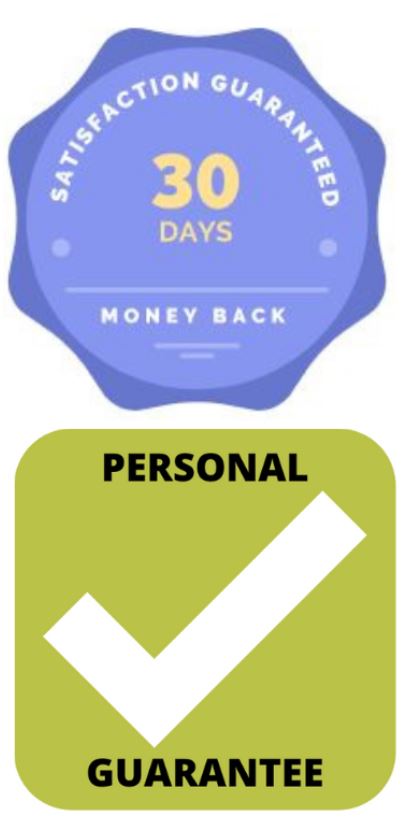 1. RISK-FREE
I want you to be happy. If you decide - for any reason - that this training isn't for you, contact me within 30 days for a full refund.
2. PERSONAL GUARANTEE
If you watch the videos, do the quizzes, and ask me questions when you need to, you'll get an advanced level of English!

Your Instructor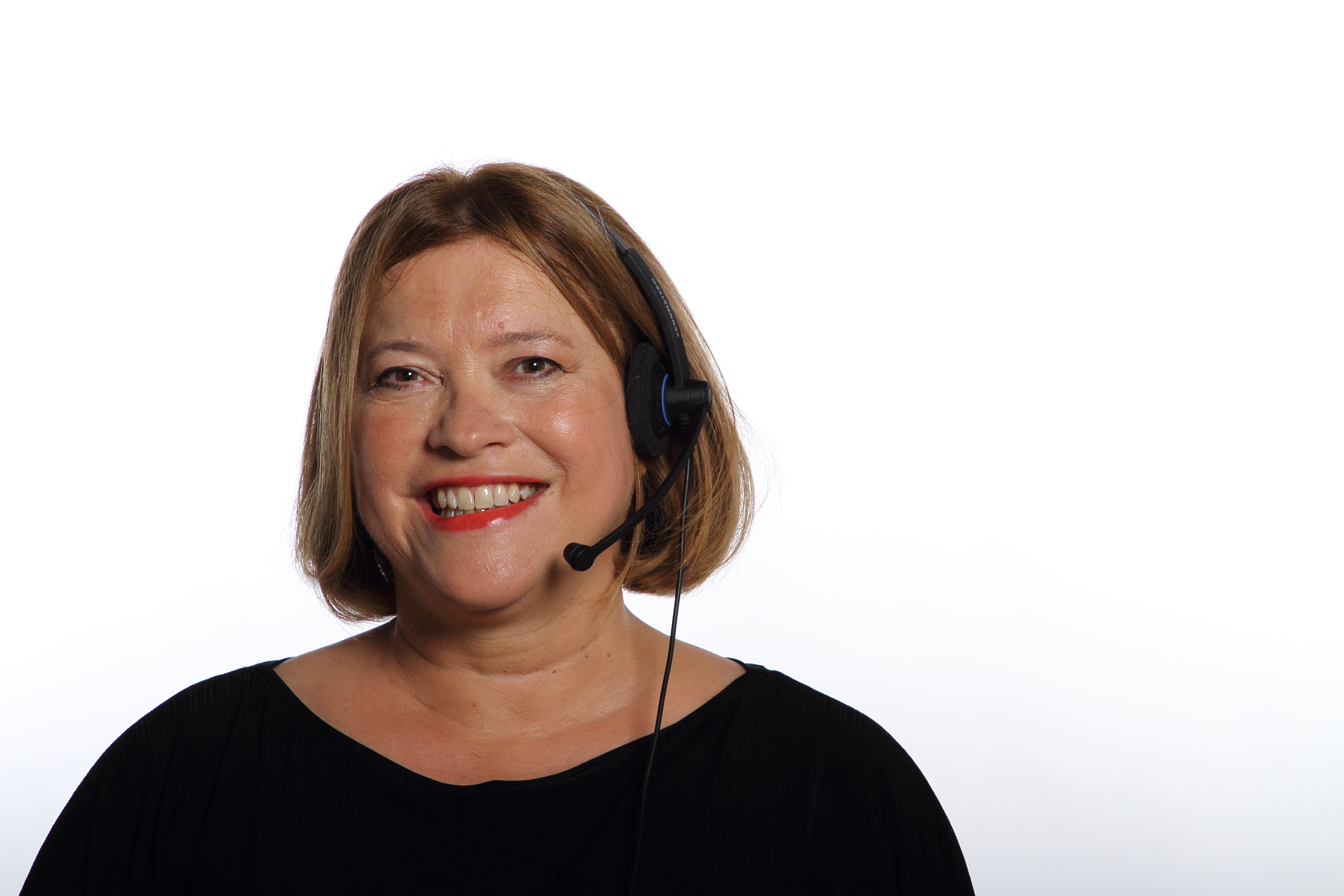 How I will help you
I help over 500,000 people learn English with me every month on my website - and I can help YOU!
I've taught English for more than 20 years, to people from all over the world. This means I've seen and heard most grammar and pronunciation mistakes, and that I can show you the short-cuts and easy ways to learn English.
I'm an English "nerd", so you don't need to be!
Languages fascinate me. Their structure, their similarities, and their weird rules. I particularly love analysing English so that I can explain HOW you can speak and use English both fluently and accurately.
I'm also the author of 6 learning-English books, covering English grammar, speaking, vocabulary and business.
I know how you feel

I've learnt both French and Italian, so I understand the challenges of learning a language. My goal is to support and encourage you on every step of your journey to fluency!
About me
I've lived in Italy, France, the Netherlands and Hong Kong, but now I'm back in England - my home country. When I'm not teaching, creating training courses or doing the crossword, I look after my three rescue cats.
Frequently Asked Questions
When does the training start and finish?
It starts now! It's a self-study course, with access to 'Grammar Tutor'. You can ask questions any time you need and you'll get a clear explanation.
How long do I have access to the training?
When you join the training, you have unlimited access to it and to me, your Grammar Tutor.
What if I am unhappy?
I'd never want you to be unhappy! You have two guarantees with this training, and if you're unhappy with your investment, contact me in the first 30 days and I'll give you a full refund.
What English level do I need to be?
This training will be the most helpful for you if you're already at intermediate level, and you want to get to advanced level. But if you're already at advanced level, the training will be helpful for you as a 'refresher'!
Do I need any special software for this training?
No! All the training (video / quizzes / Grammar Tutor) is on the Teachable platform. The Advanced English Party will be on Zoom, and I'll send you a separate invitation for that.